We hope you had a great winter break!
Anti-racism and Equity Corner- The BOOKS ARE COMING
Thank you to all of those that donated. The Anti-Racism and Equity Coordinators raised enough money to gift these books to our schools!!!!
Feel free to send in those "holiday gifts" now Teachers will appreciate it!

Scrip Update:
The New Year is a great time to check out the Scrip program! It's the easiest way to earn money for the many programs that the PSA supports, with no cost to you. Simply purchase gift cards for shopping you are already doing, and the PSA will earn a % of your spending back!
*please note…our enrollment code has changed! If you are already enrolled in the program this will not effect you…if you are new be sure to use THESE directions and not ones from previous news letters!
Returning user from MyScripWallett:
1)Download the Raise Right App onto your phone
2) Open the App and click "Sign In"
3) Use the same log in from MyScripWallett
4) Start Shopping…all of your account information from MyScripWallett will be carried over!
New user:
1)Download the Raise Right App onto your phone
2) Open the App and click "Join a Program"
3) Enter our Enrollment Code: D134C8FB6441L
4) Follow the prompts to set up your account
5) Start Shopping
Raise the Region is coming…March 10th and 11th!
The Lewisburg Elementary PSA will once again be participating in this region wide fund raising event. With so many fundraising opportunities put on hold and/or postponed in 2020 this completely remote event looks to be the best possibility for us to raise funds now! Last year we raised more than the $800 to help support our teachers through our educational grant program, and this year we are hoping to raise even more!
Please mark you calendars and consider making a donation to the Lewisburg Elementary PSA!
Amazon Smile: Shopping online? Type  www.smile.amazon.com and sign in using your normal Amazon log-in, PRIME will still be applied as well. Select the Lewisburg Elementary PSA as your charity of choice. Each time you shop on the AmazonSmile page 0.5% of your purchase come back to your child's school!
Are you shopping at WEIS? If so open this newsletter on your smart phone next time you are shopping, choose the link below for your school and scan the bar code RIGHT FROM YOUR PHONE! 

Click HERE for Kelly
Click HERE for Linntown
Weis will make a donation to our school just for shopping at their stores, there is no cost to YOU!!
Questions? Email Kristin at kristin.kraus@hotmail.com
Times are a little crazy and everyone is doing school everywhere! Let's do our best to stay connected and commemorate this unique school year!
The Kelly and Linntown DIGITAL SLIDESHOW coordinators are looking for images to fill our pages. We are now collecting any CANDIDS or FUN pics of your kiddos. Please provide written permission from any parents of children that are included in group pictures, this can be left in the PSA mailbox or sent to the coordinators email. We are also still accepting head shots  of your child! Photos can be formal, goofy, etc., customize it to fit your student! By providing a head shot, you are authorizing the PSA to use the image in this year's digital slideshow.
** Please note official class pictures from Lifetouch CANNOT be used, so even if you had a class picture taken with Lifetouch you need to send us a head shot to be included in this DIGITAL SLIDESHOW!!**
**You must own the rights to reprint the photos you send to us. A photo release authorizing the PSA to use the photo will be required if the photos were taken professionally.**
Please email a photo with the following information:
1. Your child's full name
(as you would like it to appear in the DIGITAL SLIDE SHOW, check spelling!)
2. Grade Level
3. Teacher if applicable (school name an alternate option)
Kelly Elementary DIGITAL SLIDE SHOW: kellyyearbook2020@gmail.com
Linntown Intermediate DIGITAL SLIDE SHOW: moalex83@gmail.com
Kelly (Kelly Elementary DIGITAL SLIDESHOW Coordinator)
Monique (Linntown DIGITAL SLIDESHOW Coordinator)
Don't forget we are constantly collecting Box Tops!
Those $$$$ really ADD UP!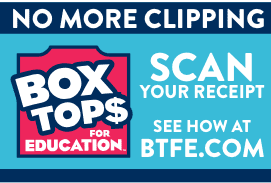 SAVE THE DATE for our meetings! 
Monday, January 11, 7pm via Zoom- 
CLICK HERE
Monday, March 8, 7pm  via Zoom- link to be provided
Monday, May 10, 7pm via Zoom- link to be provided
Now that our meetings are VIRTUAL we are hoping many more of you will be able to attend, we are looking forward to increased participation whether you are in school learning, e-learning, homeschooling, or other!
As an independent 501c3, the PSA Executive Board voted to suspend the By-Law that specifies PSA members must have a student attending school in the Lewisburg district for the 2020-2021 school year. So if your child is e-learning, homeschooling, attending cyber, or going to private school and you still want to be involved, all are welcome, permitted you continue to reside in the district. 
Remember to check the LASD Bulletin Board for special activities that benefit students in our community. Click here to see what's happening!
Subscribe to the PSA Email List… you don't want to miss our weekly PSAnnouncements email, volunteer sign-ups, our newsletter, etc! If you want to receive PSA emails, please send your name, email address, your student(s) name(s) & grade(s) to kellylinntownpsa@gmail.com.
Disclaimer – We have tried our best to double check all the dates, times, and locations for the scheduled events listed here. However, we do not guarantee that our listings and calendars are mistake-free. Therefore, please confirm the date, time, and location of each event before participating.